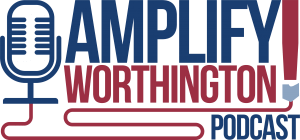 A podcast focused on all things business and economic development for greater Worthington.
This new podcast is a partnership between the City of Worthington and your Worthington Area Chamber, featuring hosts David McCorkle, Assistant City Manager and Economic Development Director, and Matt Lofy, Executive Director.
Amplify Worthington will be available on all major podcast platforms in audio and video formats. Episodes will feature business leaders, Q&A with community submitted questions, regional leaders and more.
All episodes are bulk recorded at Worthington business Boxland Media and is a part of the Boxland Podcast Network.
Have a question you want answered?!?