The Worthington Area Chamber advocates for the business and community interests for over 550 businesses from the greater Worthington (OH) area. Serving the area since 1958, the Chamber is a community leader serving as a conduit between private and public sector, community organizations and those who call Worthington home.
The Chamber is a private, nonprofit, taxpaying corporation striving to strengthen business and help build an even stronger community. Serving hundreds of businesses, spanning over 170 industries, our Chamber provides business resources, dynamic programming and serves as a platform to educate and advocate for business interests in our community and region. View our 2022 Annual Report.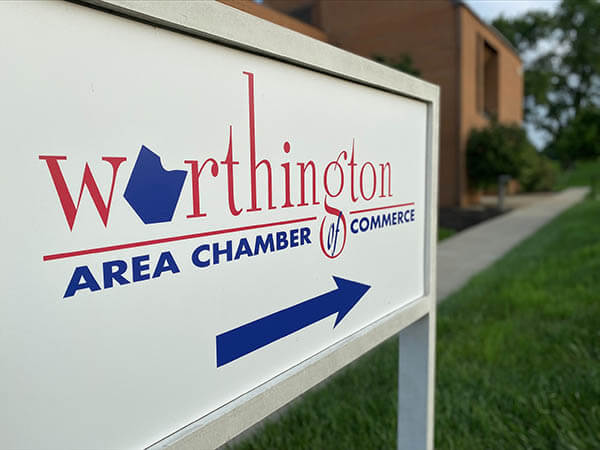 Matt Lofy
President & CEO
Email
Matt has served our Chamber since August 2021 and has nearly a decade of Chamber experience prior to coming to Worthington. His background ranges from all aspects of Chamber life to managing community leadership programs. He currently serves as a Board member for the Chamber of Commerce Executives of Ohio. Earlier in his career, Matt served in the United States Coast Guard. In 2020, Matt was honored as a Next Up Columbus recipient in CityPulse Magazine and was awarded Podcast of the Year in 2021 at the Columbus Podcast Awards. His favorite role he serves in is husband to his wife Heather and father to his son Tuckerman.
Crystal Evans
Administrative Specialist
Email
Crystal joined the Chamber in August of 2019 as our Events and Operations Coordinator. She previously had a 22 year career with Verizon Wireless prior to joining the Chamber. She has over 30 years of customer service experience, 12 years of collections experience and spent nine years in Quality as an analyst. She also has several years of experience planning and hosting events. She is from Delaware but spent most of her childhood growing up in the Worthington area. Her favorite thing to do in her spare time is spend it with family, friends and always welcomes an opportunity to enjoy the great outdoors. She loves to walk, hike and cycle every chance she gets.
The Worthington Area Chamber's annual Business Directory and Community Guide is a community resource providing a listing of member businesses by industry, along with important community events and information of our partners. It is mailed to every home in Worthington, to all member businesses and is available for pick up a City Hall, Worthington Libraries, Community Center and the Griswold Senior Center.
This publication is designed and printed by member business CityScene Media Group.