As we take a moment to reflect on our Chamber this holiday, it is evident we have so many reasons to be thankful. It's important that we as business leaders take a moment to press pause and give thanks for all the successes and those who helped get us there.
Our Chamber sits in a stronger position today, because of the tireless efforts of our Board of Trustees and our Board Chairwoman Jenny Saunders, FCBank. Their foresight and hours of leadership have helped us navigate and accomplish so much in this first-year post pandemic.
Our network committee chair and vice chairs helped reignite all our special interest groups. Starting from scratch during the mask mandate, their leadership of these groups hosted numerous events that got stronger as the year progressed. Our Women's Business Network led by Chairwoman Janna Bidlack, StateFarm Insurance and Financial Services, and Vice Chair Kimberly Schwind, AAA Ohio; Young Professionals of Worthington led by Chairwoman Malissa Nelson, OhioHealth and Vice Chair Ashley Wright, Hyatt House OSU-Short North; and our Small Business Roundtable led by Jeri Lucco, ATD Business Consulting.
We brought back nearly all our events with the leadership of countless committee volunteers and event support. With the support of these volunteers, we hosted our largest Golf Outing ever. Dr. Tony Lordo was at the helm for another Market Day. Our events are only made possible by those who help serve.
The countless businesses who have invested as Sustaining Members supported the Chamber at the highest levels to ensure our Chamber persevered despite the challenges before us. These businesses showed up at our luncheons and formal events and are the backbone of our mission. We couldn't do what we're doing without you. Please see the businesses below who are at our top three levels.
Lastly, and most importantly, we can't thank you our member businesses enough. Serving greater Worthington and our 530+ member businesses is an honor. One we don't take lightly. Working alongside you has been a blessing as we advocate for the business community.
Together, we will continue to do the good work in the name of business in the Worthington area. Something our Chamber has done since 1958. We hope that in the coming weeks and months we can continue the good work. Until then, we hope you and your families have a safe and enjoyable Thanksgiving.
Thankfully your Executive Director,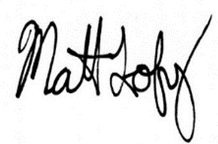 Matt Lofy
Executive Director
Worthington Area Chamber